SELL A BUSINESS - PRIVATE BUSINESS SALES – FOR SALE BY OWNER - AUSTRALIA
NO COMMISSION PAYABLE!
REMAINS ACTIVE ON WEBSITES UNTIL SOLD OR WITHDRAWN!
ALL STATES - Tasmania (TAS), Queensland (QLD), South Australia (SA), Western Australia (WA), New South Wales (NSW), Victoria (VIC), Northern Territory (NT), ACT
If you are a licensed Agent please provide your license number and we can provide details of introductions of visa migrants which will not only boost your Agency's profile but give you an edge over your competitors in gaining listings. Your Agency will also be paid an introduction fee if utilising our service. Contact us.
Cashed Up or Asset Qualified Migrant Buyers for Your Business
Local & Australia-wide buyer introductions
For marketing details with four of Australia's best websites
Contact Rob Davies at [email protected]
Phone: 0411958121
And cc [email protected]
INTERNATIONAL BUSINESS & INTRODUCTION BROKERS PROVIDES AUSTRALIAN BUSINESS & PROPERTY OWNERS WITH THE BEST OPTIONS TO ATTRACT BUYERS FROM OVERSEAS, INTERSTATE AND LOCAL MARKETS. AS REGISTERED MIGRATION AGENTS WE ARE ALSO ABLE TO FACILITATE THE INTRODUCTION OF "CASHED UP" OR ASSET QUALIFIED BUYERS FOR YOUR BUSINESS TO OUR BUSINESS VISA HOLDER CLIENTS.
Our 300 associate offices in 80 countries are electronically alerted to your business listing details following our appointment,
see "Office Partners" in www.inbib.com.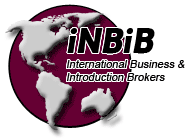 If listing a business, Go to:
If listing a property, Go to: